Locking Collar, Cast Iron Pillow Blocks from QBC
Featured Product from Quality Bearings & Components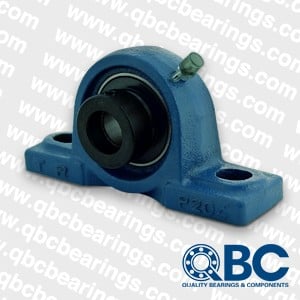 Hicksville, New York - Quality Bearings & Components - QBC announces new pillow blocks featuring both locking collar and set screw types. These pillow blocks, identified as the BBXBLK-HCP... and BBXBLK-UCP... Series, are made of cast iron housings, solid base dual seal type pillow blocks. They are designed to fit shafts ranging from1/2" to 3-1/2" in diameter. The height from the bottom of the unit to the shaft centerline ranges from 1-3/16" to 4". These standard duty units incorporate one lubrication fitting. These new elements make machinery efficient, more functional, and safer.
Quotes plus online orders are available at the QBC eStore.
QBC also provides custom-made bearings and shafting to the customer print. We also offer on-site relubing of bearings in a certified class 1000 clean room.
Quality Bearings & Components offers a large inventory of high quality small inch and metric bearings from major manufacturers. Our services include bearing lubrication and maintenance capabilities. We provide the best selection of components and bearing maintenance equipment available today. QBC is committed to delivering the world's best selection of bearings and the expertise, tools and services to maintain them.
Quality Bearings & Components - The Bearing Marketplace, is a brand of Designatronics Inc.,
Phone: +1 516-616-0436 • Fax: +1 516-616-0443
Designatronics, Inc.
250 Duffy Avenue, Hicksville, NY 11801.
Phone: +1 516-328-3300
www.designatronics.com