Self-Aligning Needle Roller Pressbearings
Featured Product from Quality Bearings & Components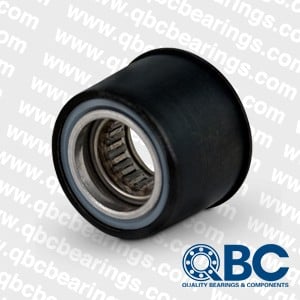 Hicksville, New York -- A new series of inch and metric needle roller pressbearings from Quality Bearings & Components - QBC are self-clinching and self-aligning to ±5° and are designed for high-speed, high-load applications. These pressbearings are identified as the BDNRSS-... Series in inch and BDNRSSM... Series in metric. They are made to fit shafts ranging from .1247" to .6245" in diameter (3.992 mm to 17.989 mm ). The overall diameter of the knurled flanges range from .55". to 1.30" (17 mm to 33 mm). Installation is simple and quick without the use of mounting blocks. Operating temperatures range from -22°F to +248°F (-30°C to +120°C). Quotes plus online orders are available at the new QBC eStore.
Quality Bearings & Components
The Bearing Marketplace
Quality Bearings & Components offers a large inventory of high quality small inch and metric bearings from major manufacturers. Our services include bearing lubrication and maintenance capabilities. We provide the best selection of components and bearing maintenance equipment available today. QBC is committed to delivering the world's best selection of bearings and the expertise, tools and services to maintain them.
Quality Bearings & Components is a brand of Designatronics Inc.,
Phone: +1 516-616-0436 • Fax: +1 516-616-0443
Designatronics, Inc.
250 Duffy Avenue, Hicksville, NY 11801.
Phone: +1 516-328-3300
www.designatronics.com