Three-In-One Quick Bearing Monitoring Meter
Featured Product from Quality Bearings & Components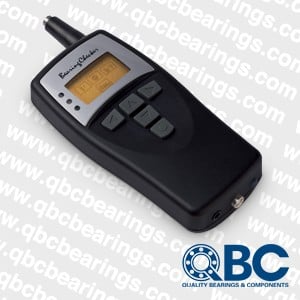 Hicksville, New York - A new BETEX professional bearing checker from Quality Bearings & Components - QBC is an economic three-in-one instrument for bearing condition monitoring. This bearing checker is unique , being the first portable, pocket-size instrument (weight 185 g, size 158 x 62 x 30 mm) for evaluated shock pulse measurement. Besides shock pulses, the Bearing Checker measures machine surface temperature with infrared light, and can also be used as an electronic stethoscope for listening to machine sounds. The instrument can be used on most rotating machinery, in a diversity of industrial environments, such as: electric motors, fans, pumps, etc.
The Bearing Checker, TB-C80322, includes: an infrared thermometer, electronic stethescope, manual, quick start instructions, DVD with technical documentation, and batteries. Machine breakdowns are frequently caused by bearing damage. Unplanned downtime, as well as unnecessary repair work, can be significantly reduced by periodically checking bearing condition.
Quality Bearings & Components offers a large inventory of high quality small inch and metric bearings from major manufacturers. Our services include bearing lubrication and maintenance capabilities. We provide the best selection of components and bearing maintenance equipment available today. QBC is committed to delivering the world's best selection of bearings and the expertise, tools and services to maintain them.
Quality Bearings & Components - The Bearing Marketplace, is a brand of Designatronics Inc.,
Phone: +1 516-616-0436 • Fax: +1 516-616-0443
Designatronics, Inc.
250 Duffy Avenue, Hicksville, NY 11801.
Phone: +1 516-328-3300
www.designatronics.com