QuinStar GaN-Based SSPA
Featured Product from QuinStar Technology, Inc.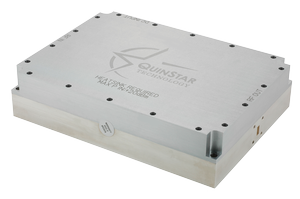 QuinStar's QBP 25284025 is a GaN-based SSPA. This high-power, solid-state amplifier operates at 25 – 27.5 GHz. We engineered QBP 25284025 to meet airborne application requirements. We can also build this SSPA for space qualification.
The unit measures 6.5 x 4.75 x 1.52 inches (excluding DC connector) and weighs 3.2 lbs. This SSPA operates on DC at 24 V, 3.5 A typical at P2. The band of operation is 25 – 27.5 GHz. Its P2 dB is 40 dBm or better across the band. Gain is 29 dB typical.