QuinStar High Pass Filters
Featured Product from QuinStar Technology, Inc.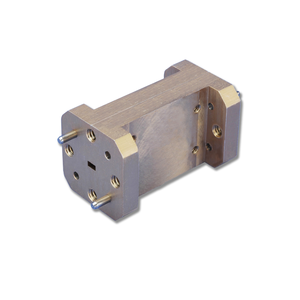 QFH High-Pass Filters provide sharp skirt selectivity and high rejection levels for frequencies below their cutoff frequency and have minimum insertion loss in the pass band. These filters are offered in seven waveguide bands covering 18 – 110 GHz. Their rejection characteristics can be custom-designed to meet specified subsystem requirements. These filters are ideally suited for:
rejecting lower sideband or image band in receivers
eliminating high power signals at lower frequencies below the applicable signal
band eliminating local oscillator leakage or spurious signals by limiting the band
QFH filters may be combined with QFL-Low Pass Filters to produce a band pass filter with very broad pass band.
The length of these filters depends on the rejection level and skirt selectivity. Please contact QuinStar for mechanical outline dimensions.