QuinStar MMW GaAS-Based Dual-Mode SSPA
Featured Product from QuinStar Technology, Inc.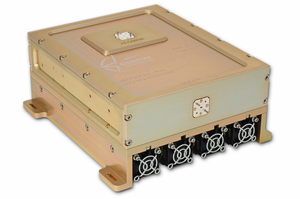 QuinStar's QPP series MMW Dual-Mode SSPA offers pulsed and CW operation modes. This GaAs MMIC-based solid-state power amplifier features high performance from 24 – 100 GHz in frequency bands listed below. Advanced MMICs and discrete devices produce state-of-the-art performance. For example, the pulse rise and fall time is 25 ns maximum with an operating duty cycle between 1 and 100%. The fast-pulse operation is based on turning on and off the drain supplies at the output stage. By shutting down the drain voltage to the output stage, the SSPA will not amplify even the noise floor presented at the input. When the pulse control signal is set at the off stage, the total current consumption drops from full operating current (10's of amp) to less than 300 mA.
The interface features waveguide or coaxial I/O. Conduction cooling through the base plate is available with optional heatsink and fans. We designed this amplifier to operate from -10°C to +60°C. Due to its design and performance qualities, QPP enables high-reliability radar transmissions, data communication systems, and general test equipment.