QuinStar Waveguide High-Power Termination
Featured Product from QuinStar Technology, Inc.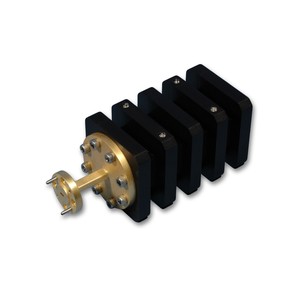 QTW High-Power Terminations are produced with standard waveguide flange interface from 12.4 – 220 GHz in Ku through G bands. The termination consists of a short length of waveguide and an integral matched terminal load. Individual resistive dielectric loads are tapered to precise wedge configurations for maximum effective power absorption. The gradual taper ensures a low VSWR over the full waveguide band. These loads have the capacity to absorb from 100 Watts to 300 Watts of power depending on the frequency band.
QuinStar offers a broad line of waveguide terminations in a variety of shapes and styles, power-handling capacities, and cooling methods to suit both typical and special applications.