Testing Space-Qualified MMW Hardware
Featured Product from QuinStar Technology, Inc.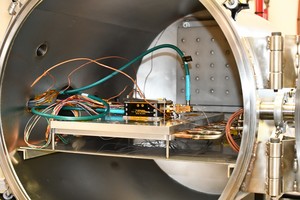 QuinStar was recently certified to test its space-qualified millimeter-wave hardware by Jet Propulsion Laboratory (JPL). After administering both the System Safety Survey and Vendor Chamber Verification Survey, JPL certified QuinStar's thermal vacuum chamber for testing flight hardware for JPL/NASA missions.
The chamber enables hardware testing under a simulated space environment. To illustrate, the 6.5 cubic ft. (0.2 cubic meter) chamber handles a temperature range of -100°C to 150°C and achieves a vacuum level of 5 x 10-7 torr. Further, the set up includes:
Software interface of automatic pneumatic operation of vacuum system
Fail-safe over-pressure protection in case of power loss
Fail-safe controller for over- and under-temperature protection of DUT in case of loss of power or liquid nitrogen coolant (LN2)
Cold finger to attract outgassing molecules
In addition to the thermal vacuum chamber, QuinStar's environmental test lab includes thermal, shock, vibration, and humidity testing capabilities. With these testing processes, as well as our class 10,000 clean room, in-house design and fabrication capabilities, and flight hardware quality system, QuinStar is particularly well positioned to provide fully qualified millimeter-wave hardware solutions for space missions.
From high-power-handling ferrite components to GaN-based solid state power amplifiers (up to 200 Watts in Ka and Q-bands), QuinStar is a significant resource for space-qualified MMW hardware.
Dr. Naresh Deo, Vice President of New Business Development, directs QuinStar's space programs. For more information on QuinStar's capabilities in space qualified MMW hardware, email sales@quinstar.com