Shoulder Screws, Shoulder bolts, Stripper bolts
Featured Product from RAF Electronic Hardware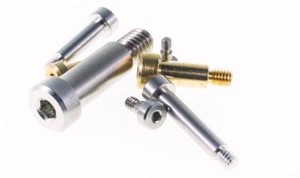 Precision Shoulder Screws
Shoulder screws also referred to as shoulder bolts, or stripper bolts, are used as a precision spacer and bearing surface for a wide variety of applications. Shoulder screws are uniquely identifiable by their long, cylindrical, midsection (shoulder), which is wider than the screw section, but narrower than the head. When screwed into a surface, the shoulder section remains above the hole allowing for the rotation of attached parts like pulleys, gears, mechanical assemblies and rolling wheels. They can also be used to attach stripper plates, which enables high torque fastening in environments with limited clearance.
Stay Updated With What's Going On At RAF
Need it Fast? RAF's Quick Turn Department Can Help
RAF's Quick Turn Department is a dedicated manufacturing cell with equipment that can deliver select products to you in days or weeks depending on your needs. Products include standoffs, spacers, male-females, swage, male-male and modified parts, available in all materials except nylon. Quantities are limited to 2,000 pieces. Click here to learn more about our quick turn services.
RAF Electronic Hardware Receives ISO-9001:2015
Certifications:
ISO 9001:2015 Certified

MIL-I-45208A

MIL-STD-45622

MIL-C-39029

Certified Dock to Stock
Engineering Data:
Nation's Leading Supplier
In 2008, RAF joined with MW Industries Inc., www.mw-ind.com, to become the nation's leading supplier of electronic hardware components to a variety of industries, including computers, telecommunications, medical, entertainment and military/aerospace. Our Product Line includes the following: standoffs, spacers, handles & ferrules, male/female standoffs, captive screws, retainers, jackscrews, precision shoulder screws, thumb screws, thumb nuts, swage standoffs, insulating washers, anti-rotation swage standoffs, swaging tools, and plastic circuit board supports. All products can be supplied in American standard and metric dimensions.
The RAF Advantage
RAF products are marketed through our online and print catalogs and are primarily sold through our worldwide network of Distributors. Additional support for both OEM's and Distributors comes from our Regional Sales Managers.
As a full-service manufacturer, we offer a wide range of products at your fingertips for immediate delivery. Most catalog items are off the shelf and available for same-day shipment. We can also supply any customized products with small minimum orders and competitive pricing. Our in-house plating facility also enables us to provide our customers with a quick turnaround on plated parts. We are RoHS compliant.
Our Capabilities
We have the fastest pick, pack, and ship capabilities. We maintain a large raw material inventory to process orders quickly. All parts are SAE and metric dimensioned parts and we have the capability to custom manufacture parts to your specifications and project needs. Our capabilities include:
World's largest inventory more than 47,000 part numbers stocked
Orders for stocked items shipped same day
90% of line items shipped partial or complete from stock
More than 250 production machines to handle any size order
Our in-house plating operation is a state of the art facility that reduces lead times through controlled and consistent plating processes
We offer more than 40 finishes
We offer additional inspections (available for an additional cost), PPAP: Level 1-5, SAE AS9102, GE GT1007-2. Additional FAI inspection available by request