Operating, Communication and Control Services
Service Detail from RAFI GmbH & Co. KG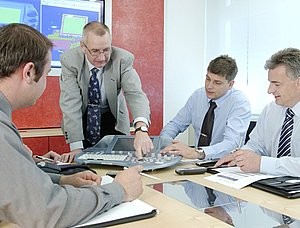 Engineering
Development and production of mechanical systems, electronics and software, taking into account the strictest requirements for environmental conditions such as electro-magnetic compatibility (EMC) or climatic conditions.
Support
Concepts for mechanical systems, hardware, software and customer systems.
Design
Function

Implementation and support of mechatronic developments.
Technical coordination of projects at the customer's site.
Main focuses of development

Assemblies (mechatronic)
Complex plastic parts (technical and design)
Pressed/formed parts / contacts
Metal covers
Metal housings
Software

ProEngineer / AutoCAD
FMEA with SCIO from Plato
FEM PTC PRO-Mechanica
EDM PTC PRO-Intralink
Software development
Operating systems

Windows CE
LINUX
RTX51 - real-time operating system for 8051 controller
Application software

for 16-bit microcontroller and 32-bit microcontroller
Application visualization
Development libraries

CANopen Stack from IXXAT
Graphics library EasyGUI from Ibis-Solutions for embedded applications with graphical display
Qualification / approvals
We organize the following approvals according to customer requirements:

CE approval
UL approval
Medical technology approval as per IEC60601
KBA e1/E1 approval
Operational safety IEC61508 SIL2
etc.