RAFIX 22 FSR - When the Going Gets Tough
Featured Product from RAFI GmbH & Co. KG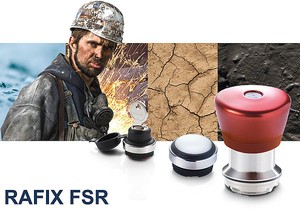 RAFIX 22 FSR - When the going gets tough, the tough get going!
Dust, dirt, lubricants, moisture, heat and cold: Close to the limit, solutions are required which are extremely rugged, hard-wearing, and tough. RAFIX 22 FSR has taken on this challenge. Under the most adverse conditions, actuators and contact blocks reveal their advantages: Ruggedness and know-how based on proven FS technology. A series specifically developed for outdoor applications, RAFIX FSR withstands external impacts - with no ifs, ands or buts.
Extremely rugged and economically unbeatable! RAFIX 22 FSR features proven RAFIX FS technology and a rugged design. The control components have a low mounting depth which saves a lot of space and enables fast installation. Pushbuttons and actuators provide for quick orientation and a clearly distinctive design thanks to their individually combinable colors and shapes.