Adjustable Height Microscope Tables
Product Announcement from RDM Industrial Products, Inc.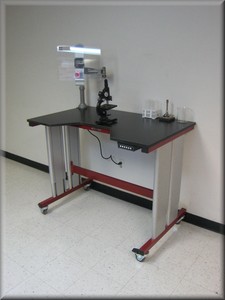 RDM Industrial-Duty Microscope Tables are the perfect solution for multiple users of one machine. The table adjusts smoothly from one position to the next, accomodating all o your users, short and tall.
Super Stable Lift Design
Hand Crank or Electric Motor Options available.
Great for use with other laboratory equipment
Optional Vibration-Damping Leveling Feet or Casters available.
Designed for all Laboratory
Suitable for Cleanroom Environments Up to Class 100 (Also Available in Stainless Steel for Higher Class Cleanrooms)
Great for Food Industry as well...
Optional Recessed Seating Area can be incorporaed into top design.
Many Multiple Seating Styles available (Call to Discuss)
As Manufacturer, we can customize to meet your specific needs.

Play Adjustable Height Microscope Tables Video on YouTube
---