Laminar Flow HEPA Workstation - Model LF-102P
Product Announcement from RDM Industrial Products, Inc.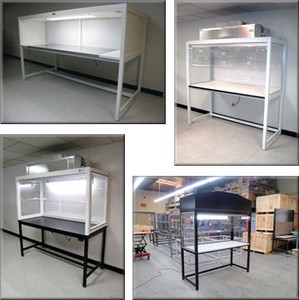 Standard Table Features...
Our Clean Bench are designed to protect your products by bathing the work area with air that is free of particulate contamination.
Energy-Efficient HEPA Fan Filter Unit(s) with Variable Speed Control (2 Total for 8-Foot Unit)
High Efficiency Particulate Air (HEPA) Filter: 99.99% efficient @ 0.3 micron
Extremely Quiet 50 dBA
Snap-In Pre-filter allows for easy replacement and maintenance
Plastic-Laminated Main Work surface (Other Surfaces Optional)
Durable White Polyurethane Paint
1/4" Clear Acrylic Rear & Side Panels
Removable, Flexible Front Draft Guide (ESD Static Dissipative available as option)
Sealed Fluorescent Light Fixture(s)
12' Long 115v Power Cord (Plugs into standard 20A duplex outlet)
Standard Sizes:

We are the manufacturer - Feel free to specify your custom dimension requirements
above or choose from the following...
LF-102P-30 (30"Deep x 30"wide x 86-89"high)
LF-102P-3 (30"Deep x 36"wide x 86-89"high)
LF-102P-4 (30"Deep x 48"wide (24"sq. HEPA) or 53"wide (2x4 HEPA) x 86-89"high)
LF-102P-6 (30"Deep x 72"wide (2x4 HEPA) or 77"wide (3 24"sq. HEPA units) x 86-89"high)
LF-102P-8 (30"Deep x 101"wide x 86-89"high)
Work surface Height as specified by client...

Durable Steel Frame Construction
Fully-Welded Tubular Steel Frame Connections
Many Top Options to Choose From, Including Plastic Laminate, Chemical Resistant, ESD /
Static-Control, Solid Surface, Stainless Steel, and More...
Many Styles Available, Including:

Laboratory with Chemical Resistant Solid Surface Tops
ESD / Static Control with Grounding Ports & Hardware
Cleanroom, for use in Class 100 or Less
Heavy Manufacturing with Solid Steel Decks
General Use with Standard HPL Laminated Tops Channeled rear legs accept many workbench accessories...

Optional Workstation Accessories:

Flat Monitor Stand & Keyboard Tray
Fixed or Articulating Bin Panel / Bin Rails
Utility & File Drawers
Storage Cabinets
Power Outlet Strip(s)
Tool Trolley w/ Balancer(s)
...and many more - please see below...

This model is part of the RDM Industrial workbenches standard models.

Play Laminar Flow HEPA Workstation - Model LF-102P Video on YouTube
---