Lift Table Workstation - Model i-107P-BOOM
Product Announcement from RDM Industrial Products, Inc.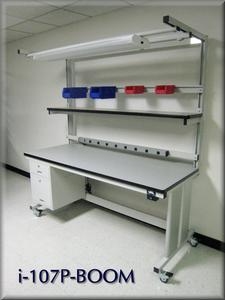 Standard Table Features...
Durable Steel Frame Construction w/ Lower Crossmember (Can be used as a footrest)
Adjustable-Height Main Work Surface with Telescoping Aluminum Legs
Adjustable-Height Overhead Shelf for Added Surface Space / Storage
Adjustable Fluorescent Light Boom (Front-to-Back)
Standard Sizes:

We are the manufacturer - Feel free to specify your custom dimension requirements
above or choose from the following...
"A" - 48", 60" & 72" Width (Right-to-Left)
"B" - 30" & 36" Depth (Front-to-Back)
"C" - 30" (Sitting "Desk" Height), 34" (ADA/Accessible Height), 36" (Standing Tasks)
"D" - 12" to 18"
"E" - 18" to 24" (Add 3 1/2" to your under-shelf clearance requirement)
"F" - Typically Same as "B"

Fully-Welded Tubular Steel Frame with Aluminum Legs
See our Cleanroom Workbench Section for Electropolished Stainless Steel Tables...
Channeled rear legs accept many workbench accessories...
Many Top Options to Choose From, Including Plastic Laminate, Chemical Resistant, ESD /
Static-Control, Solid Surface, Solid Wood (Butcher Block), Stainless Steel, and More...
Many Styles Available, Including:

Laboratory with Chemical Resistant Solid Surface Tops
ESD / Static Control with Grounding Ports & Hardware
Cleanroom, for use in Class 100 or Less
Heavy Manufacturing with Solid Steel Decks
General Use with Standard HPL Laminated Tops Channeled rear legs accept many workbench accessories...

Optional Workstation Accessories:

Flat Monitor Stand & Keyboard Tray
Fixed or Articulating Bin Panel / Bin Rails
Utility & File Drawers
Storage Cabinets
Power Outlet Strip(s)
Tool Trolley w/ Balancer(s)
...and many more - please see below...

This model is part of the RDM Industrial workbenches standard models.

Play Lift Table Workstation - Model i-107P-BOOM Video on YouTube
---