RDM Stainless Steel Tables
Product Announcement from RDM Industrial Products, Inc.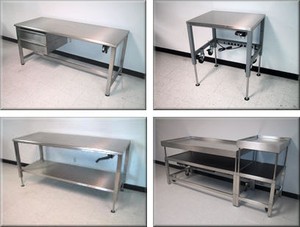 Industrial-Duty Stainless Steel Tables by RDM Industrial Products, Inc.
Many Stainless Steel Table Styles Available:
- A-107P-SS & i-107P-SS Stainless Steel Ergonomic Lift tables
- F-103P-SS Stainless Steel Tech Tables
- A-109P-SS Stainless Steel Flat Tables
- Combination of above...
Many Accessories to choose from, including:
- Articulating Flat Monitor & Keyboard Tray
- Articulating Tool Board
- Articulating Storage Bin Panel System
- Articulating Document Holder
- Articulating Storage Tray System
- Overhead Tool Boom & Tool Balancers
- Manual or Hydraulic Lift
- Ball Transfer Top
- Tilting Top
- ...and much more... Durable Steel Frame Construction w/ Lower Crossmember (Can be used as a footrest)
Standard Sizes:
Feel free to specify your custom dimension requirements
above or choose from the following...
"A" - 48", 60" & 72" Width (Right-to-Left)
"B" - 30" & 36" Depth (Front-to-Back)
"C" - 30" (Sitting "Desk" Height), 34" (ADA/Accessible Height), 36" (Standing Tasks)
"D" - 12" to 18" (Depth of 1st Upper Shelf)
"E" - 18" to 24" (Add 3 1/2" to your under-shelf clearance requirement)

Fully-Welded Tubular Steel Frame Connections (Base)
Durable Tubular Steel Table Legs w/ Leveler Feet.
Channeled rear legs accept many workbench accessories...
Over 30 Years of providing durable, industrial-grade table solutions.

Play RDM Stainless Steel Tables Video on YouTube
---