DCV Series Displacement Transducer
Featured Product from RDP Electrosense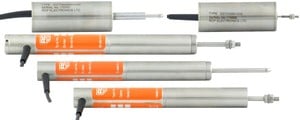 DCV Series Isolated 0 to 10V Output Displacement Transducer
These transducers are for displacement / position measurement. They make an accurate position measurement of the movement of the armature (the sliding part) relative to the body of the displacement transducer.
This transducer uses the Linear Variable Differential Transformer (LVDT) principle which means that it is probably the most robust and reliable position sensor type available. The strength of the LVDT sensor's principle is that there is no electrical contact across the transducer position sensing element which for the user of the sensor means clean data, infinite resolution and a very long life.
Our DC to DC LVDT transducer has all of the benefits of the LVDT sensor principle with the added convenience of built-in LVDT electronics enabling a dc supply and dc output.
This series of displacement transducer is available as either an unguided, captive or spring return version.
About us
RDP is a designer and manufacturer and distributor of LVDT displacement transducers, amplifiers, load cells and pressure sensors for use in a wide range of applications. We are privately owned by the two directors who started the company in 1966. Our extensive range LVDT displacement sensors and amplifiers are manufactured by us at our UK head office and factory. RDP was one of the first manufacturers of LVDT displacement transducers and the first to build the LVDT signal conditioning amplifier into the sensor.
With over 50 years of experience designing and manufacturing LVDTs and other types of linear position transducers we can normally offer a solution from our vast knowledge base to meet your application requirements.
Call us at 1-800-334-5838 to discuss your special needs with one of our application engineers and we will design a custom solution.