Displacement Sensors
Featured Product from RDP Electrosense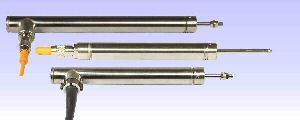 Transducers embodied in valves used for controlling oil flow in undersea pipelines have been developed by RDP to operate with high accuracy and high reliability.
RDP's LVDTs are supplied to several valve manufacturers for use with valves controlling the flow of oil from pipe networks on the bottom of the sea, close to the well head. The transducers are usually sealed within the valve and are required to withstand very high pressures of up to 5000 psi. One construction option is to vent the transducer, allowing the pressure media to flow freely through the transducer, providing fluids are non-conductive and non-corrosive. Vented LVDT transducers which can withstand pressures up to 30,000 psi are used in conjunction with sealed amplifiers whch are sometimes also immersed in the oil. Alternatively sealed transducers can be provided that are manufactured with a fully welded construction. In all cases the transducers are subjected to a very high level of production testing, including pressure testing in both water and in helium, shock and vibration testing and repeated temperature cycles at many points in the production process to ensure minimal failure rates in the field. RDP's onerous testing regime has achieved extremely high reliability rates for these LVDTs, with less than 1 failure in 2000 units per year.
We have standard models from .020 to 37 inches with a variety of outputs and mechanical configurations many of which can be modified for use in high pressure applications. In addition to valve positioning and control applications we have also designed and supplied displacement transducers for pumps, structural monitoring, and stress measurement for the oil and gas industry for both downhole and sub-sea applications.
With over 45 years of experience designing and manufacturing LVDTs and other types of linear position transducers we can normally offer a solution from our vast knowledge base to meet your application requirements.
Depending on your application and environment, we have both AC LVDTs with external signal conditioning and DC to DC units which have internal signal conditioning and are easy to use and set-up with voltage or 2-wire 4-20ma outputs.
If a standard model is not suitable for your application, take advantage of our expertise with environmentally demanding applications and call us at 1-800-334-5838 to discuss your special needs with one of our application engineers and we willdesign a custom solution to solve your measurement needs.