Displacement Transducers for Extreme Environments
Featured Product from RDP Electrosense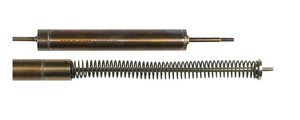 LIN Extreme Environment Displacement Transducer
These transducers are for displacement / position measurement. They make an accurate position measurement of the movement of the armature (the sliding part) relative to the body of the displacement transducer.
The LIN differential-inductance LVDTs are inductive (similar to an LVDT sensor) and because there is no contact across the sensor element it is very robust. The LVDTs are available as either unguided or spring return versions.
This sensor is appropriate for high temperature, high pressure and high nuclear radiation position measurement applications. Many applications in turbines, in nuclear power stations and in research labs are appropriate for this sensor.
Menu of Displacement Transducers
Click here to see how a Dc LVDT works
The DCV LVDTs are ideal for use in:
Specialty machines
Industrial control systems
Material testing
Civil/structural engineering
General purpose testing/instrumentation
Welcome to www.rdpe.com
Choose from our wide range of high quality transducers and instrumentation products. These result from 45 years of design and application experience, backed by the ISO 9001:2015 quality control system.