Transducers for displacement/position measurement
Featured Product from RDP Electrosense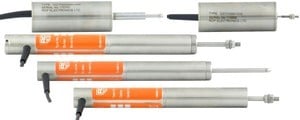 Easy-to-use pre-calibrated displacement transducers
RDP's DC-DC LVDT's eliminate power supply selection concerns and grounding issues. Pre-calibrated with 0-10V or 2-wire, 4-20ma outputs. Ideal for machine tool, assembly equipment, materials testing, and OEM applications.
LVDTs with 0 to 10 volt Isolated Output
RDP's DCV series of DC-DC LVDTs offers a 0 to 10 volt output that is electrically isolated from the input eliminating concerns over power supply selection and grounding issues. The DCV units will operate from 14 to 26 volts DC. They are available in measuring ranges from 0 to .2 inch (5mm) up to 37 inches (940mm) with an output of 0-10 volts DC. Improved linearity and other standard options are available.
These transducers are for displacement / position measurement. They make an accurate position measurement of the movement of the armature (the sliding part) relative to the body of the displacement transducer.
This transducer uses the Linear Variable Differential Transformer (LVDT) principle which means that it is probably the most robust and reliable position sensor type available. The strength of the LVDT sensor's principle is that there is no electrical contact across the transducer position sensing element which for the user of the sensor means clean data, excellent resolution and a very long life.

The DCV DC to DC LVDT transducer has all of the benefits of the LVDT sensor principle with the added convenience of built-in LVDT electronics enabling a DC supply and an isolated DC output. They require no additional signal conditioning.
This series of displacement transducer is available as either an unguided, captive guided or spring return version.
Click here to see how a DC LVDT works
A 2 wire, 4-20 ma version is available in RDP's DCC series.
Click here to see how a 4-20 ma LVDT works
The DCV and DCC LVDTs are ideal for use in:
Specialty machines
Industrial control systems
Material testing
Civil/structural engineering
General purpose testing/instrumentation
With over 50 years of experience designing and manufacturing LVDTs and other types of linear position transducers RDP can offer a solution from their vast knowledge base to meet your application requirements.
· General Purpose Industrial Models
· Washdown and Sealed/Submersible Models
· Units for Extreme Environments
Call RDP at 1-800-334-5838 to discuss your special needs with one of their application engineers and they will design a custom solution.