ISF for Aerospace
Service Detail from REM Surface Engineering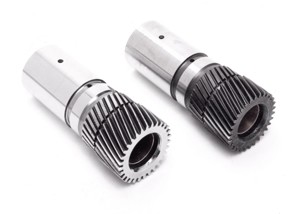 Aerospace components operate in severe conditions where stakes are high and as a result, part failure is not an option. Manufacturing these components is both complex and costly, and as such, there is a demand for decreasing friction and wear, reducing noise and vibration, increasing power density, and extending mean time between maintenance. REM's ISF® Process meets all of these needs. Their ISF Process creates a smooth, micro-textured surface without any metallurgical risk. The ISF Process is commercially used in both military and civilian fixed wing and rotary aircraft and has a proven record of reducing wear and increasing part durability.
Some of the Many Aerospace Components Utilizing REM's ISF Process:
Main and Intermediate Transmission Gears
Turbine Engine Power Gears
Main Transmission Bearings
Air FoilsHelical Gear ShaftsHelical Gear Shafts
Blisks
Stator Rings
Tail Rotor Gears
Flight Actuator Components
Rotor Hinge Pins
Generator, Hydraulic and Fuel Pump Gears
Fuel Transfer Components
ISF Aerospace Part Performance Benefits:
Reduce Friction
Reduce Contact and Bending Fatigue
Lower Operating Temp
Reduce Vibration and Noise
Increase Power Density
Increase Part Durability
Reduce Lubrication Requirements and Cost
Increase Fuel Efficiency
Extend Mean Time Between Maintenance
Interested in learning how REM and the ISF Process can add significant value to your parts? Simply contact REM Chemicals for more information.
---