Revolutionary Active RFID Tag Utilizing 433 MHz
Product Announcement from RFID, Inc.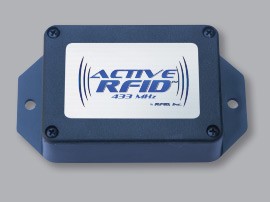 The Active RFID is a revolutionary product utilizing the 433 MHz frequency to accomplish AVI (Automated Vehicle Identification.) Personnel/Asset Tracking and Perimeter Security functionality with unparalleled read range and flexibility. Now available with acclerometer option (motion detection) and RSSI (Received Signal Strength Indicator) providing distance of Tag from Reader.
The Active RFID Tags (CS and MM) models have a replaceable battery which allows the user to enjoy a declining per year tag cost by simply following the warranty instructions for battery replacement, thereby renewing the tag warranty in three year increments. Active RFID tags are designed to withstand the rigors of everyday usage and the label can be customized to meet specific aesthetic requirements.
By utiizing our varied mounting hardware options, these tags can be used as windshield tags, personnel badges, visor clips or even handtags for vehicles. The MM (metal mount) tag is designed for semi permanent attachment to assets using screws and bolts.
Visit RFID, Inc. to learn more about our products and click here to view Active Tag References and Application Stories.
Click here for a pdf with additional product information
---