Battery-powered Wi-Fi modules for sensing apps
Product Announcement from RFM (RF Monolithics, Inc.)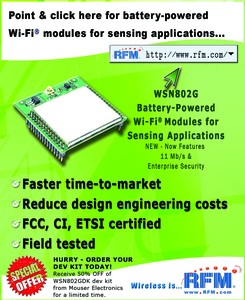 Get years of battery life while taking advantage of existing Wi-Fi access points to deliver low-cost, reliable and secure wireless sensor network products.
By sleeping while maintaining access point association, the RFM WSN802G module wakes up periodically, or on interrupts and automatically transmits sensor data in mere milliseconds The result: a low-cost sensor network that can run for years on a battery, without needing gateways.
With the routines built-in to the module, plus the analog and I/O, no other processor is needed to implement a versatile, easy-to-use wireless sensor.
HURRY - SPECIAL OFFER FROM MOUSER! ORDER YOUR DEV KIT TODAY. Receive 50% off of the WSN802GDK developer kit from Mouser Electronics. Offer expires 10/31/2010.
---