DNT2400C-2.4 GHz Transceiver Module
Product Announcement from RFM (RF Monolithics, Inc.)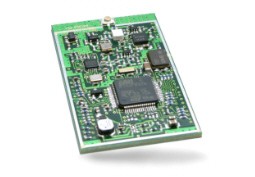 The DNT2400 provides a selection of over-the-air data rates and transmit power levels allowing one module to work for many products and giving the designer insurance that the radio performance can be tweaked if needed when the design is finished without having to design in another radio. The DNT2400 supports point-to-point, point-to-multipioint, peer-to-peer, and tree routing networks.
Highly Reliable and Secure FHSS Capabilities at Very Low Cost
RFM proprietary frequency hopping technology provides robust communications reliability, provides interference rejection and minimizes multipath fading
2.4 GHz ISM band allows the DNT2400 to be used license-free world-wide
AES-128 Encryption allows the most sensitive data to be securely sent wirelessly
Tree Routing with Fail Over extends coverage area
Low cost provides substantial cost savings over existing long-range radios without compromising features or radio performance
Highly Configurable Including RF Data Rate and RF Transmit Power
The DNT2400 enables the OEM designer to fit the radio to the application rather than having to fit the application to the radio. Configuration options include:
RF Data Rates
RF Transmit Power
Frequency Hopping Rate
Bandwidth Allocation
Co-Located Network Support
Sleep Modes
Flexibility of the DNT2400 means that OEM designers no longer have to become familiar with nor stock multiple radio modules.
Click here if you need additional technical information,
to inquire about samples or to discuss your custom needs.
• 2.4 GHz Frequency Hopping Spread Spectrum Transceiver
• Point-to-Point, Point-to-Multipoint, Peer-to-Peer and Tree Routing Network Topologies
• Transmitter Power Configurable from 1mW to 100mW
• RF Data Rate Configurable from 38.4 to 500 kbps
• Serial Port Rate up to 460.8 kbps for Streaming Applications and Master/Slave SPI port
• 128-Bit AES Encryption
• Separate Serial Port for Diagnostics
• Analog and Digital I/O for Sensor Applications
• Sleep Modes and Auto-reporting
• CSMA Modes for Unlimited Number of Nodes
• TDMA Mode for Guaranteed Bandwidth
• FCC,ETSI, and IC Certified for Unlicensed Operation
• Pin-for-pin Compatible with RFM DNT900 900MHz Module
• Module single unit $69 / volume discounts available
• Development Kit $359
Click here if you need additional technical information,
to inquire about samples or to discuss your custom needs.
download data sheet Rev Date 08/12/09
---