Wi-Fi & Wi-Fi + Bluetooth Low Energy Combo Modules
Product Announcement from RFM (RF Monolithics, Inc.)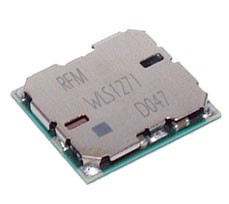 The WLS series is design-optimized for high RF performance AND size-efficiency.
Wi-Fi + Bluetooth Combo: Best-in-Class WLAN and Bluetooth coexistence technology on a single chip.

High-efficiency RF front-end circuit plus a DC-DC converter.

Tiny Size: Slightly smaller than a dime - designed to fit into space-constrained designs.

Wi-Fi Compliant: All three modules --- WLS1270, WLS1271L and WLS1273L --- comply with IEEE 802.11b/g/n and the WLS1273 complies with 11a. All three operate at 2.4 GHz and the WLS1273 also operates at 5.8 GHz.

Bluetooth Compliant: The WLS1271L / WLS1273L complies with Bluetooth V 4.0 plus EDR, Power Class 2 + Bluetooth Low Energy

High Performance TCXO for Healthcare and High Speed Data Applications: The RFM XTC7012 TCXO was designed specifically for the WLS-series and particularly for the WLS1273L module (802.11a and 11n compliant) to provide frequency stability for years and years of healthcare and high-speed data applications.
Driver Support: Linus and Dndroid drivers for the OMAP35xx processors, or driver source code is available that can be modified for other ARM Cortex A-Series Processors.

Reference Designs: RFM reference designs for SDIO and host interface are available with RFM evaluation kits.

Evaluation Kits: Each evaluation kit contains one evaluation board, CD with GUI, USB to Serial Converter, and two 2.4 or 5.8 GHz Antennas
Samples: May be purchased purchased and include the XTC7012 TCXO at no additional charge.
Order your Evaluation Kit or Samples today! http://www.rfm.com/products/wi-fi_bluetooth.php
---