Measure geometrical parameters of railway wheels
Featured Product from RIFTEK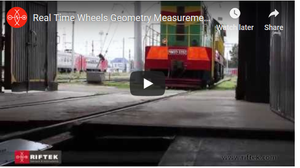 Real time wheel geometry measurement system 3DWheel Data Sheet
Real Time Wheels Geometry Measurement System 3DWheel
Measured parameters:
Wheel profiles
Flange height
Flange width
Flange angle
Rim thickness
Tread width
Back to back distance
Wheel diameter
Real time wheels geometry measurement system
The system is designed for contactless automatic measurement of geometrical parameters of railway wheels and uses a combination of 2D laser scanners, mounted wayside in the track area.
The system can be easily installed at any type of rail infrastructure.
Measurement Instruments for Railway Transport
RIFTEK
Scientific and Production Company RIFTEK is an enterprise specializing in development and fabrication of optoelectronic instruments for measuring of geometrical quantities.
The basic product line includes: laser triangulation position sensors; 2D and 3D laser scanners; optical micrometers; absolute linear encoders: data acquisition, processing and indication systems; control systems; devices for control of movement and distance, digital cameras for machine vision, measurement instruments for railway transport.
RIFTEK has been assessed and found to be in accordance with the requirements of ISO 9001:2015 in respect of development and production of optoelectronic measuring instruments.
We offer integrated solution to control and automation problems – from sensing devices to multifunctional measuring and control systems.