RF 656 Series optical Micrometers
Featured Product from RIFTEK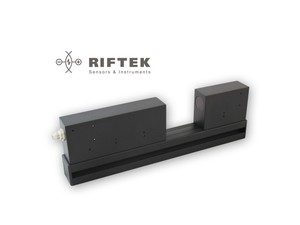 Optical micrometers use a "shadow" measurement principle whereby collimated laser light is transmitted towards a receiver. The edges of the shadow cast by an object in the beam's path are accurately measured by the detector array inside the receiver unit. Optical Micrometers are non-contact devices that ideally measure diameters of wires, rods and other cylinders in addition to gaps, edge positions and dimensional characteristics of geometric objects.
The series includes two lines of models:
RF651 - direct through beam micrometers
RF656 - high precision through beam micrometers with telecentric lens.
High precision noncontact measurements:
Large Width / Diameter
Gaps
Dual axis
Object and Target Displacements
Object Recognition
Diameter and Profile
RF 656 Series
high precision micrometers with telecentric lenses
Measuring ranges, mm: 5, 10, 25
Accuracy, µm: ± 0,3…1
Measuring rate, kHz: 2, 10
RIFTEK
Scientific and Production Company RIFTEK is an enterprise specializing in development and fabrication of optoelectronic instruments for measuring of geometrical quantities.
The basic product line includes: laser triangulation position sensors; 2D and 3D laser scanners; optical micrometers; absolute linear encoders: data acquisition, processing and indication systems; control systems; devices for control of movement and distance, digital cameras for machine vision, measurement instruments for railway transport.
RIFTEK has been assessed and found to be in accordance with the requirements of ISO 9001:2015 in respect of development and production of optoelectronic measuring instruments.
We offer integrated solution to control and automation problems - from sensing devices to multifunctional measuring and control systems