Rail Profile Measurement Gauge PRP Series
Featured Product from RIFTEK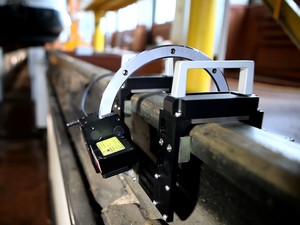 Watch Video>>>>Rail profile measurement gauge PRP Series
Rail Profile Measurement Gauge PRP Series
Portable laser rail profilometer (PRP) is designed for non contact registration of cross-section of the railhead acting face.
The main functions of PRP are:
• obtaining the information on the cross-section profile of the working railhead surface;
• full profile scanning and analyze of the railhead acting face;
• visualization of the combined graphical images of actual and new crosssection;
RIFTEK
Scientific and Production Company RIFTEK is an enterprise specializing in development and fabrication of optoelectronic instruments for measuring of geometrical quantities.
The basic product line includes: laser triangulation position sensors; 2D and 3D laser scanners; optical micrometers; absolute linear encoders: data acquisition, processing and indication systems; control systems; devices for control of movement and distance, digital cameras for machine vision, measurement instruments for railway transport.
RIFTEK has been assessed and found to be in accordance with the requirements of ISO 9001:2015 in respect of development and production of optoelectronic measuring instruments.
We offer integrated solution to control and automation problems – from sensing devices to multifunctional measuring and control systems.