RLS Long Radius 90° Elbows
Featured Product from RLS LLC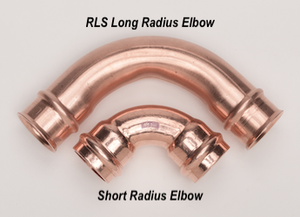 RLS Long Radius 90° Elbows: The key to system efficiency!
Maintaining appropriate refrigerant flow in an HVAC/R system is critical to minimizing pressure drop and maximizing efficiency. That's why your choice of 90° elbows is so important.
The fact is, short radius elbows slow down refrigerant flow and can cause pressure drops that may damage HVAC/R system components – or require them to be upsized. The longer the elbow and the wider the radius, the better the refrigerant and oils can flow, keeping components lubricated and keeping the system running as efficiently as possible.
RLS 90° elbows were specifically designed for high-pressure HVAC/R systems (not plumbing) and feature the longest radius of any elbows on the market. As a result, RLS long radius 90s significantly reduce pressure drop compared to short radius elbows – nearly 50% less. Bottom line, RLS 90° elbows maximize system efficiency and protect components better than short radius elbows.
We've developed a fact sheet with more information, including performance comparison charts based on guidelines from the ASHRAE Refrigeration Handbook. Download your copy here.
Watch>>>>RLS Rapid Locking System
Here's a quick look at the many advantages of using RLS flame-free press fittings to make reliable copper tube connections in high-pressure HVAC and refrigeration applications.
About RLS LLC
RLS LLC designed, engineered and developed the first press-to-connect fittings for the HVAC and refrigeration industries. After years of research and development, we introduced our fittings to the market in 2015. Over the years, we continued to expand our product line, regularly introducing new items and new sizes to meet customer needs.
Today, there are millions of RLS fittings installed worldwide, and the original, patented, proven RLS product line remains the only line of refrigerant press fittings in the world to be UL Listed to 700 psi.