Airodek Formwork System
Featured Product from RMD Kwikform Ltd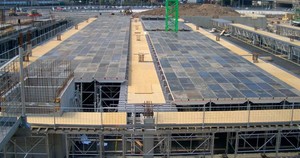 Airodek is a low-weight, high productivity, simple slab formwork system, suitable for slabs of up to a depth of 700mm. Its quick, safe and simple assembly process enables one man to erect up to 40m² in an hour, significantly reducing construction time and labour requirements and thereby customers costs.
FASTER
Lightweight panels and minimum number of components means that Airodek has 30% less weight and 40% fewer parts than conventional props and timber.
With minimal components, Airodek is quick to erect and dismantle, maximising construction cycle times.

Quick strip option allows formwork to be removed for reuse,
whilst backpropping remains to support the slab.

SAFER
Airodek Panels and Beams are erected from below the soffit using an assembly prop, reducing the safety hazards of working at height.

Unique Crown locates the corners of up to 4 panels simultaneously, ensuring panels cannot be easily dislodged.

A range of edge protection options available, ensuring safe slab edge support and access.

EASIER
Full range of accessories makes this a very versatile soffit support system.

Powder coated Aluminium Frames reduce concrete adhesion making maintenance on site easier.
Can be used with props, decking or customers own shoring systems.
Airodek has either a high quality ply face or a composite face, which lasts longer, provides a better finish and is easier to clean.
Innovative Design
Airodek is based on a single principle - simplicity. Airodek has been designed for easy assembly, transportation, storage and maintenance.
Lightweight - A single operator can easily and safely handle all the equipment reducing labour times for erection and dismantling.
Erected from below the soffit - Panels and beams can be erected from below the soffit reducing working at height issues.
Quick Strike pin - Standard props have a quick strike pin which releases the load with a single hammer blow. This increases productivity and reduces noise pollution.
Useful Accessories - Spacing gates and legs provide stability prior to placing infills to columns.
Unique Crown - The unique crown component securely locates the corners of up to four panels simultaneously ensuring panels cannot be easily dislodged.
Safety Upstands - Plastic upstands on decking beams provide secure location points and prevent the unintentional dislodging of panels.
Infill bracket & support block - Removes the necessity for additional propping adjacent to existing walls where panels don't quite reach.
Ply or Composite Face - Airodek has either a quality ply face or a composite face, which lasts longer, provides a better finish and is easier to clean.
Innovative Components
Drop-head - 1 - Quick strike system lowers the decking beams by 70mm to enable the panels to be removed & re-used whilst leaving the soffit propped.
Drop-head - 2 - Unique propeller locks the decking beam in place to avoid accidental dis-lodging during high winds.
Lightweight - All components in the prop & panel system are under 25kg making them ready for man handling.
Easy handling - The largest panel has twin grab handles to facilitate easy handling.
Prop markings - Blue band on prop indicates correct height to fit spacing gates so that support leg works - no measurement required.
Base jack - Drophead, perimeter u-head and crown are all designed to support the decking beams without differing adjustments to height of jack at the base.
2 sizes of Infill beams - Neatly removes the necessity for additional timber support to the plywood used at infill positions.