Laser Marking: Tracking and Traceability
Product Announcement from RMI Laser, LLC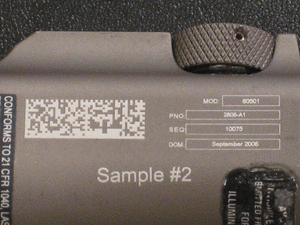 Improve the cradle-to-the-grave traceability and tracking of your components, tools, and instruments by permanently laser marking each with a serial number, part number, barcode, data matrix, QR Code, or UID Codes.
RMI Laser has developed custom software packages, not excluding the UID Wizard (only one in the world) for manufacturers providing them with Database Recognition, Serial Number Duplicate Checking, and the peace of mind to know your markings are indelible and will last the life of your part.
What is cradle-to-the-grave traceability?
Simply put, this is a process put in place by the manufacturer that tracks every part/component they manufacture from the beginning of the manufacturing process, until the part is either returned by the customer or has reached the end of it's life cycle. It also provides the ability to authenticate parts and prevent counterfeiting.
Laser marking systems are the ideal tools for such tasks since they provide direct integration into existing productions lines, they digitally interface with databases or other communcation protocols, and they provide permanent markings of alpha-numerics, coding, and logos/graphics onto all metals, most plastics, ceramics, composites and many more.
Take control of your manufacturing process with RMI Lasers. Contact us at (303) 664-9000 or info@Rmilaser.net for more details.
---