3rd Generation SiC Schottky Barrier Diodes
Featured Product from ROHM Semiconductor USA, LLC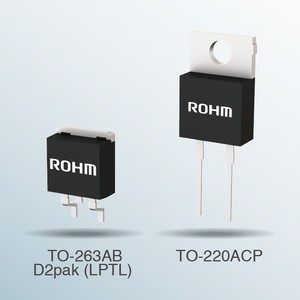 3rd Generation SiC Schottky Barrier Diodes SCS3xxA Series
Low Vf High Surge Resistance SiC SBDs
3rd Generation SiC Schottky Barrier Diodes
SCS3xxA Series
Utilizing SiC Schottky barrier diodes (SBD) instead of fast recovery diodes (FRD) in PFC circuits in power supplies improves efficiency during continuous mode operation.
ROHM's SCS3xxA series of 3rd generation SiC SBDs maintain the industry's lowest VF characteristics of its 2nd generation products while providing higher surge current resistance. Optimized for power supply PFC circuits.
ROHM's New SiC Schottky Barrier Diodes Featuring Industry-Low VF with High Surge Resistance
Watch>>>ROHM Semiconductor Corporate Video
ROHM Semiconductor, an industry leader in system LSIs, discrete components and module products, utilizes proprietary leading-edge semiconductor technologies along with a completely in-house, vertically integrated production system that allows ROHM to quickly respond to changing needs while ensuring unsurpassed quality and reliability. ROHM has also established a global manufacturing, QA, and sales network in order to deliver stable supply and timely support to customers around the world.
LAPIS Semiconductor, acquired in 2008 by the ROHM Group through a spin-off of OKI's semiconductor business, supplies market-leading logic, memory, and driver ICs by leveraging low power consumption, high-frequency circuit, and digital-analog mixed signal technologies. Foundry services are also available for producing custom products for other companies.