Automotive-Grade Buck-Boost Power Supply Chipset
Featured Product from ROHM Semiconductor USA, LLC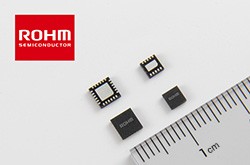 New Automotive-Grade Buck-Boost Power Supply Chipset Ensures Stable Performance with Industry-Low* Current Consumption
Novel Quick Buck Booster? technology improves system stability in start-stop vehicle systems
ROHM has recently announced the availability of a buck-boost power supply chipset that provides the lowest current consumption in the industry along with stable performance (transient response characteristics) in automotive ECUs (Electronic Control Units) for cluster panels and gateways used in start-stop vehicle systems.
The chipset integrates a buck DC/DC converter with boost functionality (BD8P250MUF-C) and a dedicated boost IC (BD90302NUF-C). The primary chip (BD8P250MUF-C) utilizes ROHM's novel buck-boost control technology, dubbed Quick Buck Booster, that enables configuration of a buck-boost power supply without degrading buck power supply characteristics by simply adding the dedicated BD90302NUF-C boost IC to the subsequent stage.
The result is an industry-best no-load current consumption of 8µA and ±100mV output voltage fluctuation utilizing an output capacitance 44µF (70% less current consumption and 50% less output capacitance vs conventional products), contributing to improved stability and energy savings in applications where significant input voltage drops occur in a short period of time, such as start-stop vehicle systems. In addition, Quick Buck Booster technology allows for a common board design that integrates both buck-boost and buck power supply topologies along with the requisite peripheral components and noise countermeasures, reducing development time and labor by 50% compared to conventional methods requiring separate buck-boost and buck power supply boards.
ROHM Semiconductor
ROHM Semiconductor is the industry leader in system LSI, discrete components and module products, utlizing the latest in semiconductor technology.
ROHM Co. Ltd., ROHM Semiconductor's parent company, was established in Kyoto, Japan, in 1958. ROHM designs and manufactures semiconductors, integrated circuits and other electronic components. These components find a home in the dynamic and ever-growing wireless, computer, automotive and consumer electronics markets. Some of the most innovative equipment and devices use ROHM products.
ROHM Co., Ltd., is also the parent company of Kionix, LAPIS Semiconductor and SiCrystal.