ROHM Expands its Range of Power Devices
Featured Product from ROHM Semiconductor USA, LLC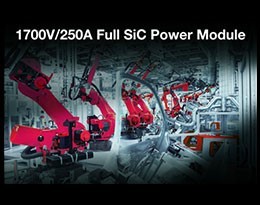 ROHM Semiconductor expands its range of Power Devices to offer complete Power Solutions
ROHM Semiconductor will showcase its latest power product designs at PCIM, the leading trade fair for Power Electronics, Intelligent Motion and Energy Management in Nuremberg, from May 07 – 09, 2019 (Hall 9, Booth 312).

Energy savings and reduced system costs in all kinds of systems are heavily influenced by the choice of power devices. With new developments from ROHM Group's extensive research and design initiatives, ROHM is able to offer customers not only a full line-up of efficient, compact products for their applications, but also a complete solution for the power channel. At PCIM 2019, ROHM will show power semiconductor solutions focused on E-mobility and power supply applications.
Sign-up for ROHM's E-Newsletter
ROHM
ROHM designs and manufactures integrated circuits (ICs), semiconductors, and other electronic components. These components find a home in the dynamic and ever-growing wireless, computer, automotive, and consumer electronics markets. Some of the world's best equipment uses ROHM products.
Follow our social media!