Ultra-Compact Low Profile 2-Color Chip LEDs
Featured Product from ROHM Semiconductor USA, LLC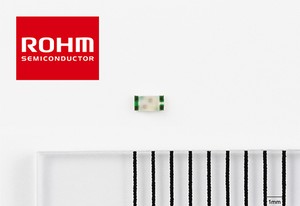 Ultra-Compact Low Profile 2-Color Chip LEDs
Industry-small form factor contributes to thinner, more vibrant displays in industrial and consumer devices
ROHM has recently announced the availability of the industry's smallest class (1608 size) of 2-color chip LEDs. In addition to their breakthrough size, the SML-D22MUW features a special design that improves reliability along with a backside electrode configuration that supports high-resolution displays.
In recent years, chip LEDs are being increasingly used for numerical displays in industrial equipment and consumer devices. Conventional numerical displays utilize a single color to indicate numbers, but there is a growing need to change the color to make it easier to recognize abnormalities. However, this typically entails utilizing two separate LEDs, which doubles the mounting area along with development costs, or opting for a standard 2-color LED that also increases board size.
In contrast, proprietary technologies and processes allowed ROHM to integrate 2 chips in the same package size as conventional single-color LEDs, making it possible to emit multiple colors in a smaller footprint. Board space is reduced by 35% over standard 1.5 x 1.3mm 2-color LEDs, contributing to thinner displays. And after taking into consideration usage conditions during reflow, countermeasures were adopted that prevents solder penetration within the resin package to ensure greater reliability.
Key Features
1. Class-leading compact size contributes to smaller, thinner devices
In addition to element miniaturization, the SML-D22MUW leverages PICOLEDTM mounting and wire bonding technologies to mount 2 chips (red and green) in a compact 1.6 x 0.8mm package - the same size as conventional single-color LEDs.
Also, the extremely close configuration of color elements results in excellent color mixing properties that make it possible to produce not only red and green colors, but a number of intermediate colors as well.
2. Solder penetration countermeasure ensures superior reliability
Incorporating a stopper called a 'resist' before the gold plating process blocks the gold pattern (that features good wettability). This prevents solder penetration into the resin, eliminating failures due to short-circuits and contributing to greater reliability
3. Backside electrode configuration supports high-resolution display
Adopting a backside electrode design allows mounting in narrow spaces, enabling high-definition display in dot matrix and other applications.
Watch>>>ROHM Semiconductor Corporate Video
ROHM Semiconductor, an industry leader in system LSIs, discrete components and module products, utilizes proprietary leading-edge semiconductor technologies along with a completely in-house, vertically integrated production system that allows ROHM to quickly respond to changing needs while ensuring unsurpassed quality and reliability. ROHM has also established a global manufacturing, QA, and sales network in order to deliver stable supply and timely support to customers around the world.
LAPIS Semiconductor, acquired in 2008 by the ROHM Group through a spin-off of OKI's semiconductor business, supplies market-leading logic, memory, and driver ICs by leveraging low power consumption, high-frequency circuit, and digital-analog mixed signal technologies. Foundry services are also available for producing custom products for other companies.