Ultra Low Iq Buck Converter
Featured Product from ROHM Semiconductor USA, LLC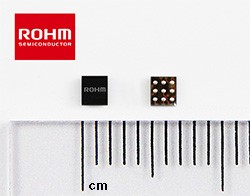 Nano Energy™ - Ultra Low Iq Buck Converter For Low Power Applications - BD70522GUL (New)
The BD70522GUL is a Buck Converter featuring 180nA quiescent current and supports output current up to 500mA. The Constant ON-Time (COT) control with ULP (Ultra Low Power) mode provides superior transient response and extends battery life by providing excellent light load efficiency below 10μA load range. The output voltage can be selected from 9 pre-set voltages by VSEL pins. When the input voltage gets close to the output voltage, the IC enters 100%ON mode where the switching operation stops.
New DC/DC Converter Featuring the Industry's Lowest Current Consumption
Original Nano Energy technology enables long-term operation for up to 10 years on a single coin battery
ROHM has recently announced the availability of a DC/DC converter with integrated MOSFET that achieves the lowest current consumption in the industry*, making it ideal for compact battery-driven devices in applications such as IoT, wearables, and portable equipment.
In recent years, the number of battery-driven portable devices such as smartphones, wearables, and IoT has risen dramatically. This increases the demand for smaller components that can provide greater design flexibility along with the necessary space for integrating new features while also achieving lower power consumption to prolong battery life.
The BD70522GUL is an ultra-low-power converter designed to meet the needs of the IoT market to deliver 10-year operation on a single coin battery. Nano Energy technology, developed utilizing industry-leading analog expertise in circuit design, layout, and processes, has allowed ROHM to deliver an unprecedented current consumption of just 180nA (nano→10-9). This makes it possible to increase battery drive time by 1.4x over conventional products when operating without a load (standby), contributing to longer battery life in electronic devices powered by coin-type batteries (i.e. CR2025). At the same time, power conversion efficiency greater than 90% is achieved over the industry's widest range, from light to max. loads (10µA to 500mA).
Both the BD70522GUL and its evaluation board (BD70522GUL-EVK-101) will be available for purchase through online distributors.
Watch>>>ROHM Semiconductor Corporate Video
ROHM Semiconductor, an industry leader in system LSIs, discrete components and module products, utilizes proprietary leading-edge semiconductor technologies along with a completely in-house, vertically integrated production system that allows ROHM to quickly respond to changing needs while ensuring unsurpassed quality and reliability. ROHM has also established a global manufacturing, QA, and sales network in order to deliver stable supply and timely support to customers around the world.
LAPIS Semiconductor, acquired in 2008 by the ROHM Group through a spin-off of OKI's semiconductor business, supplies market-leading logic, memory, and driver ICs by leveraging low power consumption, high-frequency circuit, and digital-analog mixed signal technologies. Foundry services are also available for producing custom products for other companies.