Camlock Gaskets - A Superior Seal
Featured Product from ROW, Incorporated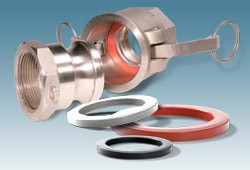 Although ROW has spent decades in the O-ring business, we understand how important it is to provide a wide variety of products to our customers. Our Encapsulated O-rings are perfect for many applications, but there are times where more corrosive environments call for something with excellent chemical resistance.
TFE-O-SIL® silicone and Viton™ gaskets for cam lock couplings, encapsulated with FEP, are designed for use with practically all chemicals, even in the toughest corrosive environments. These gaskets combine the best qualities of two materials to form a superior seal: Elastomer as the core for resilience, and FEP on the outside for chemical resistance. Not an envelope gasket, the elastomeric core of every TFE-O-SIL gasket is fully encased.
If you click on the URL link attached to this article, you will be able to ssee the variety of dimensions ROW is able to produce for both Silicone and Viton Camlock Gaskets. Some of these features are as follows:
Excellent Chemical Resistance
Resiliency
Wide Temperature Range
Low Coefficient of Friction
Nonstick Surface
Universal Seal
Sanitary
The great part about our Camlock Gaskets is they provide a superior seal for any bulk liquid transfer in manufacturing, distribution, storage, etc... Typcial applications are:
Chemical Processing

Comestic Industry

Petroleum Industry

Paints and Dyes

Pharmaceuticals

Rubber and Plastics

Printing and Marketing Equipment

Bulk Liquid Transfer
Our Camlock Gaskets provides a unique advantage for a variety of different applications! Check out more info on our website or reach out to us directly!