FEP/PFA Encapsulated O-Rings
Featured Product from ROW, Incorporated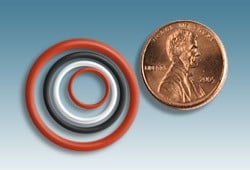 TFE-O-SIL silicone, Viton™ or EPDM O-Rings encapsulated with FEP or PFA are designed to address the growing problem of sealing in the most hostile chemical and temperature environments. TFE-O-SIL combines the best qualities of two materials, FEP or PFA on the outside with its chemical inertness and an elastomer on the inside for resilience. This unique combination forms a highly effective, long lasting seal for the most demanding applications.

TFE-O-SIL O-Rings are available in over 60 standard cross-section sizes from .063" (1.60mm) to 1-1/4" (31.75mm). Standard TFE-O-SIL O-Rings are comprised of FEP over silicone, Viton™, or EPDM, and can be used in temperatures from -75° to +400°F (-60° to +205°C) depending upon the choice of elastomer core.

For high temperature applications to 500°F (260°C), TFE-O-SIL is made with PFA over silicone. PFA has higher mechanical strength than FEP or TFE at elevated temperatures and has excellent crack and stress resistance.

Encapsulated O-Rings are primarily used as a static seal (axial or radial).
Standard TFE-O-SIL O-Rings in round or square cross-sections are manufactured in sizes to AS 568A industry standards. Non-standard sizes are also available for custom designs, along with a full range of metric (ISO) sizes.