Not All Encapsulated O-Rings are of Equal Quality
Featured Product from ROW, Incorporated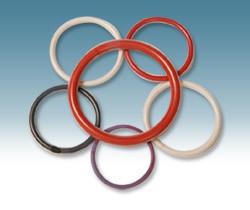 Not all encapsulated o-rings are of equal quality and performance abilities even though they may look alike. Insist on ROW, Inc. TFE-O-SIL® vulcanized encapsulated O-rings!
These O-Rings combine the chemical inertness of FEP or PFA on the outside with the resilience of an elastomer on the inside for a superior seal. Their natural resilience leads to maximum rebound. The inner core is vulcanized for extra strength and durability, particularly at elevated temperatures. And there is no air gap between the core material and the FEP or PFA; allowing less compression set. This combination of factors results in more effective, longer-lasting seals.

In addition, ROW, INC. has added FEP encapsulated silicone and Viton™ square cross-section rings, and fully encapsulated TFE-O-SIL Gaskets for cam locking, quick disconnect couplings.

You can depend on ROW, INC. for reliable, quality products. Each and every O-Ring and Gasket meets strict quality control procedures and is inspected through every step of production. ROW, INC. maintains an extensive selection of stock products in a broad range of sizes and materials. Plus, ROW, INC. is dedicated to the continued development of new products to address the challenges posed by demanding new chemical and temperature applications.

ROW, INC. has the attitude, experience and production capabilities to meet your needs and specializes in custom sizes (inch and metric) with the industry's most responsive lead times and minimums.