Antennas - When to Choose Off-the-Shelf, or Custom
Product Announcement from RS Components, Ltd.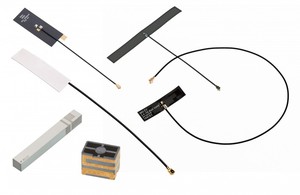 Antennas: When to Choose Off-the-Shelf, When to Go Custom
System engineers are challenged every day to make the right decisions for their device design, and these days the list of options seems to be constantly growing. When the wrong product choice is made, efficiency, reliability and the overall success of a device can be impacted.
This is even more important when it comes to antennas. Choosing the right antenna for your device design is crucial, but where do you start?
Are you asking yourself when to choose a ready-to-use antenna and when to go custom?
This interview with Savvas Valsamakis, Molex's European Antenna Business Development Manager, sheds light on what engineers should be looking for when designing-in antennas.
When evaluating different antennas for a wireless device, what is the very first step design engineers should take?
There are many things that an engineer must consider; we recommend starting with confirming the below 4 key questions. This will enable Molex to begin the process of helping the engineer to choose the best antenna for the application:
Which wireless protocol will be used, or what is the frequency needed?
What is the required performance?
Where will the antenna be located within the device - on the PCB, attached to the housing, or external to the device etc.?
How much space is available for the antenna?
What are the benefits of choosing a ready-to-use antenna?
By choosing a Molex ready-to-use antenna, the time and cost needed for designing the antenna pattern and mechanical layout, in addition to cost associated with tooling and fixturing, can be avoided. This helps engineers to meet their targeted development schedules and cost targets. It can also help keep the overall cost of the final product down once in mass production.
Molex ready-to-use antennas are readily available in either Molex's globally located sample hubs or can be obtained from our global distribution network. Often, they can be delivered within days of ordering, enabling the user to start testing in their device as quickly as possible. The Application Specification documents available on Molex.com also give direction and advice on how to optimize the performance of the antenna making it easier to meet the targeted performance.
When should custom antennas be considered?
Today device manufacturers are cramming more and more antennas into complex and compact spaces, with more exposure to unfavourable materials. In instances where this is the case, a system designer may see a benefit in working with Molex on a custom solution.
Molex has supported the design and manufacture of over 500 million antennas and has strong design and test capabilities in strategic global locations to support these custom developments.
We advise our customers to contact us when they feel the ready-to-use antennas do not meet their mechanical needs and/or they need support in improving the antenna performance and we can provide the right program and options to get them what they need.
Is it possible to customise an existing antenna? How can antenna suppliers help?
Yes, it is possible to customise a ready-to-use option if the existing product is not working exactly as needed. In this case, Molex can modify a ready-to-use antenna to suit specific needs. This can be more cost-effective and faster than designing a fully custom antenna.
The options for customizing an existing antenna are quite broad and could be as simple as a change to the cable length, or the connectors on the cables. To make sure that the antenna matches the performance needs of the application certain changes can be made to 'tune' the antenna. This involves making alterations to the pattern of the antenna.
Before deciding to modify a Molex antenna, it is recommended to first make sure that the antenna is being used in an optimal way, considering location, orientation, and proximity to other components, all of which can influence the behaviour of the antenna. These include components like shields and batteries. Customers can easily refer to product literature including on Molex.com as the first point of support. We highly recommend that you contact us at Molex if further support is needed.
What technology is used to produce a custom antenna?
When producing a truly custom antenna, there are many technologies that can be used, these include PCB, FPC, stamped metal and selective metallized plastic (MID - Molded Interconnect Device technology). Molex can provide all of these and more.
One of the most common MID manufacturing methods is Laser Direct Structuring (LDS). This involves plating conductive 'traces' of an antenna onto plastic housing and is used to fit antennas in compact devices such as mobiles phones, headphones, smart watches and hearing aids. This technology can be used in virtually any device that can benefit from a space saving design. Molex is a leader in the design and manufacturing technique for LDS.
From your experience, what advice would you give to engineers designing in antennas?
It is always recommended that an engineer consider the performance needs of the antenna at the very beginning of the design process. It's important to remember that the surrounding components and structures can have a significant impact on the antenna performance and best to identify that early through testing.
If a ready-to-use antenna looks like a viable option, then we always recommend reviewing the product Application Specification document on Molex.com to ensure the product performs as best it can for that application. If there are questions, please contact us here at Molex.
If a custom solution will be needed, we always encourage engineers to contact us in the concept or early prototyping stages so that we can advise on the overall product design to help ensure the performance is optimal.
---