Clicker 2 for PSoC 6: For Faster IoT Innovation
Product Announcement from RS Components, Ltd.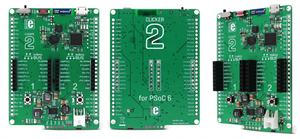 The PSoC 6 MCU bridges the gap between expensive, power hungry application processors and low performance MCUs, delivering advanced compute performance for energy-conscious devices like IoT endpoints or other small battery-powered objects. Its dual-core architecture combines an Arm® Cortex®-M4 and an Arm Cortex-M0+ on the same chip. For more info on PSoC 6, please click here.
Developers worldwide can now quickly bring their next IoT idea to life with MikroElektronika's Clicker 2 for PSoC 6 - the most powerful and only Clicker 2 Dev Board with built-in wireless connectivity. This marks Cypress' introduction into the flourishing MikroElektronika click board community.
Featured on-board is a PSoC 63 MCU which supports BLE 5.0 connectivity. Also on board are two separate mikroBUS™ interface headers that allow for hardware functionality to be expanded to hundreds of click boards available from MikroElektronika. With this development platform from Cypress, RS, and MikroE, IoT system designs based on the ultra-low-power PSoC 6 MCU can be enhanced with a number of different capabilities including: GSM, GPS/GNSS, motor control, speech recognition, sensors, meters, LCD or OLED displays, and much more
The Clicker 2 for PSoC 6 is available NOW on RS-Components - Get your MIKROE-2849 today!
---