FTDI compact hi-speed USB interface chips at RS
Featured Product from RS Components, Ltd.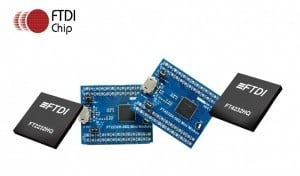 These brand-new USB interface chips are the latest versions of FTDI's well-known FT4232H and FT2232H ICs and offer a high-quality, flexible solution for a multitude of applications.
The devices are easier to place and route on circuit boards as they now come in 56-pin VQFN packages complementing the 64-pin LQFP package configuration. Supporting 480Mb/s operation, the devices are configurable hi-speed USB 2.0 ICs and are also available in mini modules (FT4232H-56Q and FT2232H-56Q) with integrated micro-USB connectors to make interfacing with external infrastructure quick and easy.
Designed to be as flexible as possible, the FT4232H/FT2232H range incorporates two and four UARTs – on the FT2232H version both channels and on the FT4232H version two of four channels can be independently configured using a wide range of industry-standard serial interfaces.
With the USB protocol already integrated the FT4232H/FT2232H range does not require any USB-specific firmware which supports reduced development time. Additionally, with an operating temperature from -40°C to +85°C, the FT2232H and FT4232H USB 2.0 interface ICs from FDTI Chip are rugged enough for industrial deployment.