For better harvests design with Petunia LEDs
Featured Product from RS Components, Ltd.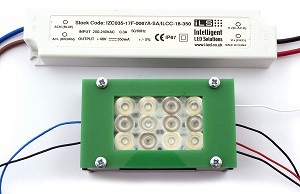 Design and create advanced products to boost the performance of horticultural businesses with Petunia starter kits and lighting components from Intelligent LED Solutions (ILS), available now at RS.
LED modules from the Petunia range generate various combinations of the wavelengths required to create optimal lighting solutions for the rapid growth of plants and seedlings – namely warm white, hyper red and deep blue wavelengths. The Petunia range provides all the components required to build a complete lighting solution, including heatsinks, constant-current LED drivers, thermal materials and optimised lenses.
There are five different configurations of the starter kit available which help to speed up product development by bringing together the main components into a ready-to-use package, including a 12-LED module with lenses, heatsink, driver, adapter, screws, top cap and spacer.
Available kit combinations
ILK-PETUNIA-01
Provides a LED configuration of 6 warm white, 5 hyper red and 1 deep blue for general purpose applications. This kit uses a parallel Petunia board providing control over individual colour channels and lighting levels.
ILK-PETUNIA-01S
Same as the ILK-PETUNIA-01 model for general purpose applications, with a LED configuration of 6 warm white, 5 hyper red and 1 deep blue; however, this kit uses a serial Petunia board so all 12 LEDs are controlled simultaneously.
ILK-PETUNIA-02
Also for general illumination, this kit features a high-efficiency module containing 9 hyper red and 3 deep blue LEDs on a serial Petunia board.
ILK-PETUNIA-03
Provides a LED configuration of 6 hyper red and 6 deep blue on a serial Petunia board to accelerate the growth of leafy vegetation and increase crop yield.
ILK-PETUNIA-04
With a configuration of 3 hyper red and 9 deep blue LEDs, this starter kit has been developed specifically for seedlings as young plants respond well to the predominantly blue wavelengths. LEDs are on a serial Petunia board.
ILS is an OSRAM certified partner and OSRAM's latest Oslon® SSL ThinGaN emitters are used in the LED modules. These emitters are highly reliable with a low thermal resistance that ensures cool operation while remaining extremely efficient up to high drive currents.
These LED modules are optimised for use with compact LEDiL Petunia lenses, designed for horticultural applications in greenhouses and retail spaces. These high-quality lenses are produced in long-lasting, optical grade polycarbonate to ensure durability and feature moulded pins for accurate attachment to the baseboard.