Gadget Renesas SAKURA boards at RS Components
Featured Product from RS Components, Ltd.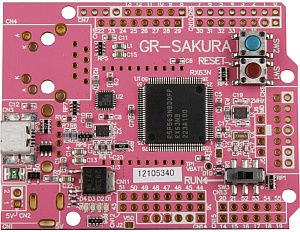 'Gadget Renesas' is a concept developed by Renesas that links ideas with electronics by providing boards for rapid prototyping, along with an online community to share ideas. Offering a highly flexible platform, these general purpose programmable boards are suitable for all levels of software development experience – from engineering students just starting out, to professional design engineers.
Ideal for developing applications in consumer, office and industrial automation, plus Internet of Things (IoT) and robotics projects, the SAKURA platform is Arduino-compatible with C++ libraries and templates built-in. Arduino UNO-compatible pin-headers are featured and ready for use with Arduino shields. In addition, the boards offer:
51 GPIO pins
micro-SD jacket
6 analogue input pins
JTAG interface
XBee wireless module header footprints
Arduino Shield interface
+5V DC power jack
Mini-B USB host connector
Ethernet
Two versions of the board are available: the GR-SAKURA-II is a standard version that comes part populated with interface connectors; the GR-SAKURA-FULL comes fully populated with connectors.
Both the Gadget Renesas SAKURA-II and SAKURA-FULL are available to buy from RS Components now.