Harting Han® - a reliable connection
Product Announcement from RS Components, Ltd.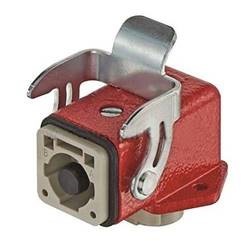 HARTING's Han® Q 1/0 Axial Screw Protected connectors are compact single-pole units that enable the transmission of high currents within the small footprint of a standard 3 A housing.
The range features an angled male contact which is fed out of the application at a right angle to form a relatively flat structure. The range is also compact because contact is established on the connection side by a female contact and not via the cable. HARTING also pre-assembles the angled male variant, so no assembly required by the user. A straight female insert with the axial screw technique is used on the connection side.
The axial screw technique means that Han® Q 1/0 connectors can assembled easily in the field without the use of special tools.
Han® Q 1/0 Axial Screw Protected connectors can be used with cables with conductor cross-sections between 16 mm² and 25 mm², and can be coded with separate pins - a total of 16 different codings are possible.
All male and female inserts are touch-safe according to IEC 60 529.
HARTING's Han® Q 1/0 from RS: https://uk.rs-online.com/web/c/?searchTerm=han+Q&sra=oss&r=t
Discover more Harting ranges available at RS: https://uk.rs-online.com/web/b/harting
---