New wireless Raspberry Pi 3 raises the bar
Featured Product from RS Components, Ltd.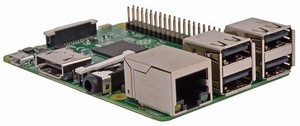 In case you don't know, Raspberry Pi is a credit-card-sized, single-board computer designed originally as a small, affordable, and most importantly, programmable computer for kids. Four years on and while Pi is still an awesome educational tool that is helping to engage kids with STEM subjects earlier and enthusing the Electronic Design Engineers of tomorrow, Pi has been joyously welcomed by today's engineers and makers too. Its simplicity, value-for-money and versatility makes it ideal in a vast range of settings, from prototyping to industrial control and process automation.
The new improved Raspberry Pi 3 Model B is designed for use within industry, homes and schools across the globe. It features a more powerful 64-bit ARM Cortex-A53 quad-core processor for enhanced performance and integrates wireless LAN connectivity and Bluetooth onto the board. Now you can add a slice of Raspberry Pi directly to your Internet of Things (IoT) development projects without the need for additional components!
Raspberry Pi 3 Model B is available from RS Components – get your hands on the new generation model today.