Phoenix Contact Skedd Connectors
Featured Product from RS Components, Ltd.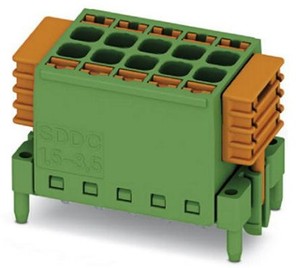 Power your connection costs with Phoenix Contact SKEDD Connectors. Fewer parts with direct-to-board connection.
With the SDDC connector, Phoenix Contact is presenting the first PCB connector with innovative SKEDD direct plug-in technology and push-in connection. The new PCB connectors are connected directly to the PCB via through-contacted bore holes. This means there is no need for an additional header. Component and process costs are thereby reduced.
The connectors are easily mounted on the PCB without tools and locked with the integrated body-bound rivets to form a vibration-resistant connection. The SDC 2,5 series is suitable for conductor cross sections from 0.2 mm² to 2.5 mm². It is designed for currents up to 12 A and voltages up to 320 V (IEC). The connectors, with a pitch of 5.0 mm, are available in versions with up to 16 positions. Push-in connection functionality offers an unprecedented level of convenience when it comes to device connection