RS Pro launches portable Wi-Fi microscopes
Featured Product from RS Components, Ltd.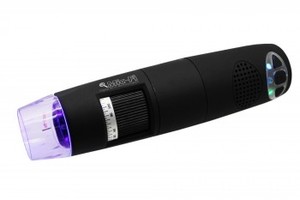 Perfect for industrial inspection by electronics and mechanical engineers and quality control inspections, such as PCB soldering, as well as for use in laboratories, research, measurement and automotive.
There are six different microscope models in the range, each with its own special feature:
Mic-Fi Digital is standard version featuring digital colour with built-in Wi-Fi wireless transmission allowing for measurement and transfer of images and videos
Mic-Fi Polarised additionally features a built-in adjustable polariser for reducing reflection or glare from shiny objects
Mic-Fi UVW allows inspection of objects under UV or white light, which is ideal for biomedical or forensic purposes
Mic-Fi High Magnification model features 500-600x magnification
Mic-Fi Long Distance is ideal for rework, assembly and repair with its wide field of view
Mic-Fi TV uses an RCA cable and Wi-Fi receiver base to connect and display microscope output to a wide range of TVs
With the exception of Mic-Fi TV which outputs to TVs, all microscopes' output transmits directly to a tablet, smartphone or PC using the companion 'Mic-Fi' app which is available from Google Play or the App Store. The app then allows measurement and capture of videos and images with simple functionality.
The microscopes can be attached to a complementary range of stands for hands-free, stable operation and each microscope model is available with either EU or UK plug types.
Finally, RS Pro has also launched its new USB to Wi-Fi streamer which allows USB-based endoscopes or microscopes to capture and stream images or videos over Wi-Fi to smartphones, tablets and PCs.