RS brings simple solutions to utilise IIoT
Featured Product from RS Components, Ltd.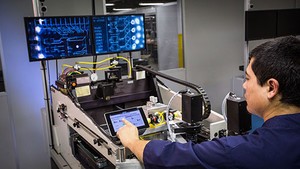 To overcome this issue without complex redesigns or significant investment, RS has introduced a range of devices which allow engineers to connect existing legacy systems to the Internet of Things (IoT). This enables organisations to move cost effectively into the Smart Factory arena and exploit the Industrial Internet of Things (IIoT).
Just because PLCs or installed sensors were originally designed for serial port communication, using the Modbus protocol for example, it doesn't necessarily mean they have to be replaced. Instead their data simply needs to be translated and made suitable for IoT.
RS offers a range of options from leading suppliers for connecting into the Smart Factory.
The Siemens SIMATIC S7-1200 + HMI KP300 Starter Kit provides a high-standard industrial communication interface, while Schneider's Magelis SCU HMI Controller Starter Kit provides a panel PC option with Ethernet connectivity to integrate seamlessly into wider networks.
Devices and sensors capable of Ethernet connection are becoming more prevalent, such as the AX8 from FLIR, which features Modbus TCP compliance and EtherNet/IP. These devices are then able to share analysis with a larger automated system. Ethernet is not essential for IoT however, and solutions are available that can act as a bridge into a wider network. An example of this is Calex's PyroNFC infrared temperature sensor which bridges into the network and is configurable via any smartphone compatible with NFC.
In addition to hardware solutions, software such as groov from Opto 22 can be connected to almost anything via a web-based operator interface.
Businesses will continue to rely on legacy systems, but we have at last reached a point where integration and M2M communication can be successfully realised in a cost-effective way.