Rosenberger fibre-optic cabling infrastructure
Featured Product from RS Components, Ltd.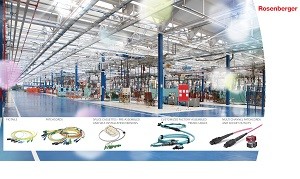 Rosenberger is well-known for offering the highest standards of quality, innovation and functionality in cabling and plug solutions across a wide range of sectors, including industrial automation and Industry 4.0, telecommunication and broadcasting, data centres and building communication-infrastructure.
Ever increasing requirements for connected M2M communication in industrial facilities mean a rapidly growing volume of data to process. A modern smart factory will have information streams coming from many sources, things like data from complex machine-control systems, quality checks in HD video, and mobile infotainment data to name a few. Fibre-optic cable products from Rosenberger fit the bill perfectly, offering the level of performance and versatility needed to cope with these increasingly data-heavy tasks.
Included in the extensive portfolio of Rosenberger products available from RS are:
PreCONNECT® Range
PreCONNECT® high density divider cable – offers 6 channels with 12 fibres terminated with MTP to LC connectors
PreCONNECT® Trunks – offers up to 144 fibres
The PreCONNECT® range is designed for communication cabling infrastructure applications where large amounts of data require transmitting securely and quickly, such as in data centres and offices.
Other available options include:
Parallel optical link cable assemblies – fibre-optic cable assemblies range terminated with MTP-female to MTP-female connections, featuring flame-retardant, non-corrosive, low-smoke, zero-halogen (FRNC-LSZH) outer jacket
LC-to-LC fibre patch cords – fibre-optic cable assemblies available in a range of different colours and lengths supplied with LC-Duplex to LC-Duplex connectors, featuring FRNC-LSZH outer jacket
Conforming to ISO9001:2008 in addition to ISO/IEC11801 and EN50173 standards, Rosenberger's high quality cable assembly products can be relied on for all critical cabling infrastructure requirements.