Testo HVAC Smart Probes for wireless syncing
Featured Product from RS Components, Ltd.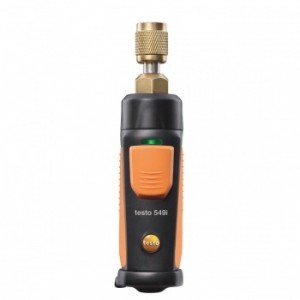 Aimed at three main application areas, eight Testo Smart Probe models are available individually, or in a range of kits.
Testo VAC Kit is suitable for measuring, balancing and optimising ventilation systems as well as troubleshooting issues. Including an infrared thermometer for assessing the condition of electrical equipment, a thermohygrometer for checking humidity, plus hot wire and vane anemometers for measuring volume flow, temperature and air velocity.
Testo AC/R Kit is suitable for troubleshooting, servicing, maintenance and commissioning of refrigeration and air conditioning systems. It comes with two pressure probes for simultaneously measuring low- and high-side refrigeration pressure and two clamp thermometers for monitoring cooling and heating pipes.
Testo Heating Kit is suitable for use with hydronic heating systems as well as radiators and includes a differential pressure manometer which allows measurement and checking of volume flow, airflow and static pressure, plus infrared thermometers and clamp.
The range of Smart Probes supports maintenance and HVAC engineers with the ability to calculate, document and store equipment performance information which can then be sent via email or text making it easier to manage and control maintenance and repairs.
Utilising Bluetooth, Testo Smart Probes are free from wires or hoses and connect quickly and easily to a tablet or smartphone.
Each kit comes supplied in a neat carry case for easy access on the go.